The Law Office Team: Roles, Purpose, and Tasks (listed by hierarchy)
Partners: The owners of the firm are referred to as equity partners. In very large firms, the equity partners are called senior partners, and they are smaller in number and retain a controlling interest in the firm. Non-equity or junior partners may be higher in number and receive a salary rather than sharing in the total profits the firm brings in. Medium-sized firms may have only one level of partnership, consisting of two or three equity partners and no associates, while very small firms will have only one owner and one or more associates (see below).
Partners handle the most high-profile clients and demand a high billable rate per hour. Senior partners are always the ultimate ruling body or individuals within any firm, and you should make it your business to ask or find out via the Internet or other research who the senior partners are when interviewing for any legal secretary position.
Office manager: Medium-sized and large firms nearly always have an office manager on the payroll who is charged with the hiring and firing of all other employees, with the exception of partners. The manager also is responsible for overseeing the everyday operations of office functionality and a multitude of other tasks that otherwise would take time away from the partners' regular duties.
Ultimately, the final say on hiring and firing lies with the senior partners; however, if there is a long-standing relationship between the office manager and the senior partners, they will more often than not take their manager's opinion into serious consideration in most matters. If you are interviewing with an office manager before interviewing with a specific attorney, do not falsely assume that you need not make an impression on this person because you will not be working directly for them. The manager may very well be the individual who decides which partner or associate you will work for if multiple positions are open, how much money you will be offered, and if you will be hired at all.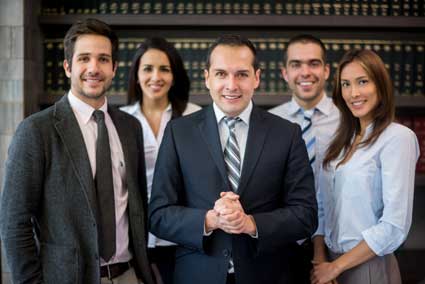 Office managers usually answer only to partners; however, because part of their salary is paid by hours billed by an associate, they will take an associate's input into consideration when making decisions.
Information technology (IT) or computer department manager: This person largely takes care of ensuring that all in-house computer hardware, software, and peripherals are functioning properly. This manager oversees the ordering of new equipment, schedules repairs to existing equipment, and ensures that there is a well-functioning backup system in place. The computer system manager is vital to the operation of a law office of any size, as, without proper functioning of the office's network, serious problems would occur.
This person usually answers directly to the office manager.
Associates: New or inexperienced attorneys and part-time practitioners of larger firms are called associates. Associates do not own part of the firm and thus are considered non-equity, but they have the potential of becoming a partner in the future. They deal with new or lower-profile clients and charge lower fees than partners. They do not lack ability or education. However, they are not as seasoned as those who have been practicing law for an extended period of time, or they may have prior experience but are new to the firm.
Other associates may be those with a great deal of experience, but they do not wish to work the excessive hours that are required to reach or maintain partnership level. These associates may keep their agenda to only several long-standing clients and only come to the office on a part-time basis as needed.
Counsel, special counsel, and "of counsel" attorneys: All three of these are considered consultants to the firm they do business with. They will mostly be found providing specific legal guidance and input to larger firms on an as-needed basis. Their hours are billed directly to the firm they consult for, and they are not usually added to the payroll.
Law clerks: Law clerks work directly with partners and associates providing research and assisting with various legal document and case preparation. They work part time or during summer breaks, as they are usually law students who are attending classes full time. Clerks may also be recently graduated law students who have not yet taken or passed the bar exam. Law clerks may work for judges. Future associates often are hired from the pool of law clerks that work for a particular firm while earning their law degrees.
Paralegal/legal assistant: A paralegal has specialized training but is not an attorney. She or he works under the supervision of and directly with partners, associates, and clerks. Paralegals have many job duties, including drafting motions and subpoenas, document review, and filing papers with courts. Paralegals traditionally have dealt more with procedural law than with substantive law.
Legal secretary: Most attorneys would admit that without a competent legal secretary, they would not be able to do their jobs properly. Attorneys count on their secretaries to take care of important matters as well as small matters so that they may attend to consultations with clients, court appearances, and the planning of legal strategy, defense, or best course of action.
The legal secretary may have more responsibility if he or she has been working with a particular lawyer for a long time, has a lot of experience, or has the knowledge required to take on certain tasks. While most legal secretaries primarily make appointments, prepare documentation, send important correspondence, file, keep track of ongoing correspondence and paperwork, and deal with clients on a daily basis, some also act as paralegals. Legal secretaries usually answer directly to the attorney or attorneys they work for and experience little or no interference from the office manager or partners, unless there is a particular problem or situation that needs to be addressed.
Receptionist: The receptionist is the first person anyone coming into the office meets. Receptionists greet clients and other visitors, take care of incoming and outgoing mail, deal with package pickup and receipts, answer the main office telephone, and transfer all incoming calls to the appropriate party. They may also keep track of visitors' incoming and outgoing time and their reasons for visiting by keeping a log book. They handle general inquiries about the office and walk visitors into the main office area. They usually answer directly to the office manager.
Data entry clerks: These positions often are part-time and require the inputting of certain data into the main computer system as needed. Those who act as data entry clerks in a law firm usually answer to the IT manager or the office manager.
Educational Requirements for Specific Jobs
Partner: Law degree and bar exam for practicing state.
Office manager: Bachelor of arts degree, master of arts degree, or equivalent experience. Often, office managers are former legal secretaries who have an excellent working knowledge of the law and the office in which they work. They may have started when the firm was small and helped it grow to a larger size.
IT manager: Bachelor's or master's in a related field, such as computer science or information technology, or related experience with technology certifications such as A+ and MCSE.
Associates: Law degree and bar exam for practicing state.
Special counsel: Law degree and bar exam for practicing state.
Law Clerks: Recently earned or earning law degree.
Paralegal/legal assistant: Special training in the paralegal field, usually an associate's degree from a certified college or a certification from a paralegal training program. Some paralegals are required to have passed the Paralegal Advanced Competency Exam (PACE). Some have an associate's or bachelor's degree in another area such as English and also are PACE certified; others may be experienced legal secretaries who have extensive knowledge of research but hold no formal degree.
Legal secretary: High school diploma, legal assistant certification or bachelor's degree. While not necessary, special certification in software applications is helpful as is a Professional Legal Secretary (PLS) certification. If focusing on a specialty of legal expertise is desired, then a Certified Legal Secretary Specialist (CLSS) certification would be helpful. CLSS certifications are for those who have five years of legal experience and want to specialize in areas such as intellectual property law, criminal law, civil litigation, probate, and business law. The PLS and CLSS certifications are offered through two professional organizations: The National Association of Legal Secretaries (NALS), Inc. and Legal Secretaries International, Inc. There will be more about specializations later.
Receptionist: High school diploma, General Educational Development (GED) or high school equivalency certificate, or competency and ability to learn.
Data entry clerks: High school diploma, GED certificate, or competency and ability to learn.
Average Salary Ranges
Please note that the salaries listed below are approximate or median and will vary by experience, length of employment, size of firm, and city or state where the job is being performed. In general, U.S. East Coast legal salaries are higher.
Partner: $250,000 to $1 million or more per year.
Office manager: $50,000 to $150,000 per year.
IT manager: $40,000 to $100,000 per year.
First-year legal associate: $60,000 to $150,000.
Special counsel: $100 to $300 or more per hour. Yearly income depends on how many hours are billed.
Law clerks: $10 to $30 per hour.
Paralegal/legal assistant: $44,000 to $100,000 per year.
Legal secretary: $30,000 to $85,000 per year.
Receptionist: $20,000 to $35,000 per year.
Data Entry Clerks: $20,000 to $35,000 per year.
Legal Specializations
The legal specializations listed below with brief descriptions vary greatly in their earning capability. Real estate, securities, corporate, criminal and antitrust are some of the higher-paying specialties. If the attorney or firm that you work for earns more for its particular specialization, then you too will earn more money providing them with top-notch secretarial assistance. However, true job satisfaction is not always about how much you make but also how much you enjoy what you do. Taking that into account, you should also consider areas that may not pay as much but that you find highly interesting or rewarding. As has been said, if you enjoy what you do for a living, the money will follow; or, in other words, if you are happy at your job, you will be better at it and thus will have the potential to earn more.
You can learn more about any of the legal specialties below that may interest you by visiting your local library or by doing an Internet search.
Antitrust law: Deals with issues of fair trade within corporations or groups that have an unfair advantage in the marketplace; may also include large company mergers and other issues.
Animal rights law: Deals with the protection of animals and legal counsel to animal rights groups.
Banking and commercial finance law: As suggested, law practiced for banking and finance deals with laws concerning these types of businesses.
Bankruptcy law: Deals with bankruptcy laws and filing for individuals, businesses, and corporations.
Civil litigation: Concerned with disputes between individuals and others wherein one party is seeking compensation or an award of some kind.
Corporate law: Deals with laws concerning large businesses; may involve contract negotiation, defense against lawsuits, or advice on personnel issues, such as discrimination, sexual harassment, and disability.
Criminal law: In the private law sector, this type of specialty involves the defense of those accused or convicted of a crime.
Entertainment and sports law: Provides legal services to those in the entertainment and sports industries.
Environmental law: Concerned with providing legal advice and services to environmental groups or groups concerned with environmental issues, such as the U.S. government.
Family law: Concerned with various family issues, such as separation, divorce, custody, trusts, wills, bankruptcy, etc.
Health care law: Pertains to all laws concerning health care issues.
Immigration law: Laws concerning immigration issues, such as residency, etc.
Insurance law: All issues dealing with insurance, such as fraud, claims, etc.
Intellectual property law: Protects and advises those who have a stake in some type of intellectual property, such as inventions, works of fiction and nonfiction, names or recorded media, or any creative work that is "from the mind."
International law: Concerned with three separate aspects, but all may be practiced by one firm dealing in this specialization: Public international law is concerned with issues pertaining to the United Nations, maritime law, and international criminal law and/or Geneva conventions; private international law involves decisions about which legal jurisdiction certain cases should or may be held in; and supranational law concerns itself with regional agreements between parties.
Labor and employment law: Legal advice and services for companies and individuals pertaining to labor, employment, and the work environment. It may include issues such as discrimination in hiring, labor disputes, and unlawful dismissal.
Maritime law: Pertains to legal advice or services for maritime (ocean) issues, questions, and offenses.
Public interest law: Legal counsel and services specifically directed at protecting and serving the public interest and human rights. May include gay and lesbian issues, Acquired Immunodeficiency Syndrome (AIDS) discrimination, discrimination in schools and universities, counseling grassroots groups, providing legal services to indigents, etc. Any legal practice that serves the public interest fits into this category.
Real estate law: Any legal service or advice that pertains to real estate for individuals, businesses, or corporations.
Securities law: Pertains to laws, advice, and legal services for investors and financial professionals.
Tax law: Deals with providing legal assistance and counsel pertaining to state and federal (Internal Revenue Service) tax issues.
Telecommunications law: Provides legal advice and services for areas of communication, such as broadcast radio and television, cable television, wireless telephone, and broadband Internet.
Tort law: Deals with areas such as negligence, defamation, nuisance, and other tort laws.
Trusts and estates law: Deals solely or primarily with the laws, services, and advice concerning trusts and estates. May include the creation of trust funds, distribution of estates or trusts, and disputes in regard to trusts or estates, etc.
Conclusion
The law office team is made up of many different roles and positions that work together to accomplish one goal: serving clients' legal needs. There are many opportunities to earn a great salary, advance your position, and specialize in one particular field of interest so that you may experience ultimate job satisfaction as you become more experienced. If you have the required years of experience, take the initiative to look into earning a certification, either as a legal secretary or for a particular specialization that interests you. If you do not have the required experience but would like to eventually become certified, then take the time to learn more about the areas of law that interest you.
The list in this article is by no means complete. There are other areas of law being practiced, and you should learn about them all as you progress in your field. Focus on learning all you can about one or several in particular. This will prepare you for when you have the experience to become certified. Another option for those who have not yet become legal secretaries is to earn certifications in specific software applications, such as Microsoft Word, Word Perfect, Outlook, or others. A certification will go a long way in showing expertise in your field and will give you an edge when interviewing or seeking a promotion.